Getting married in Aruba
Getting married in Aruba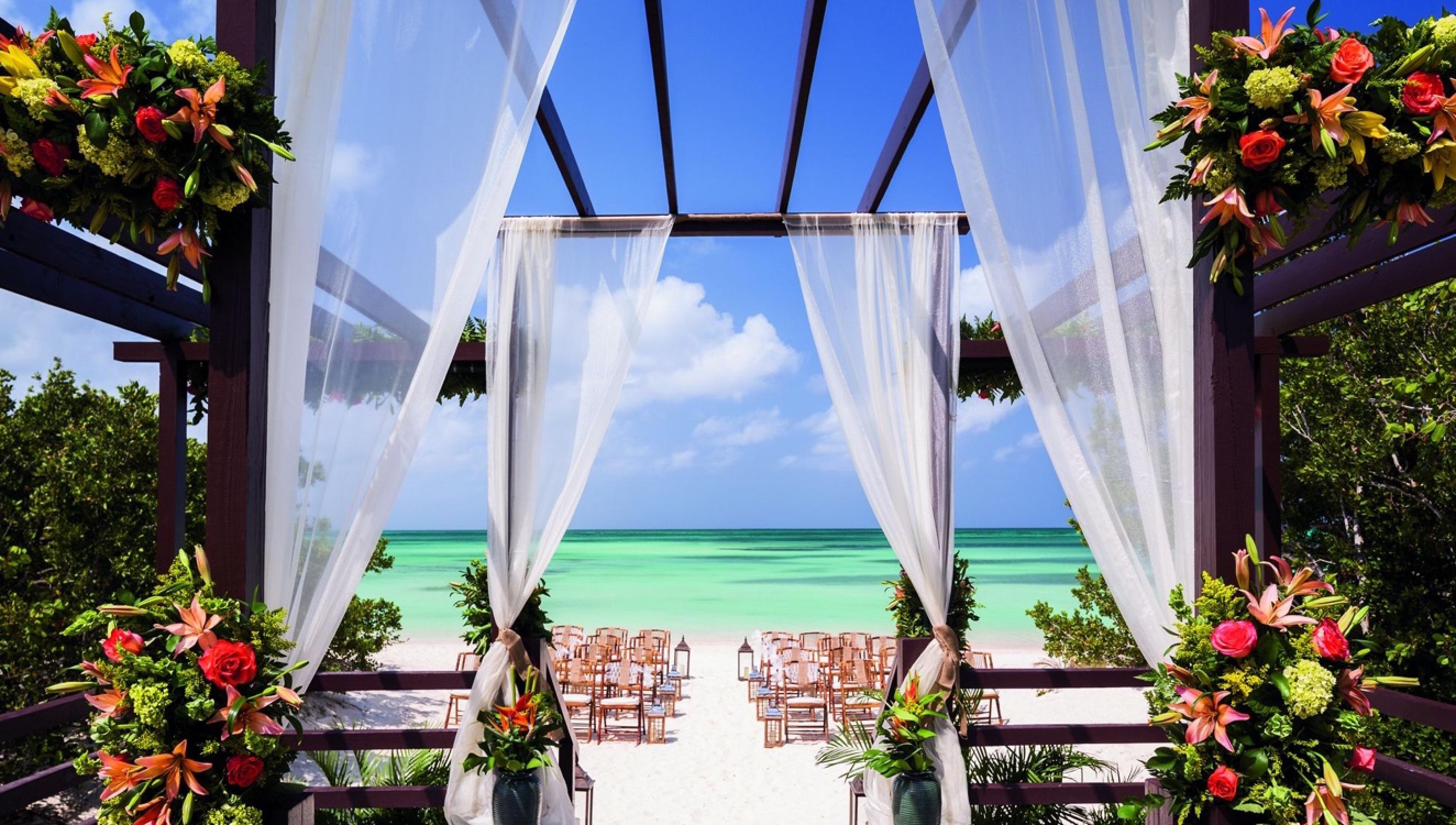 Aruba, the perfect island for your wedding.
Published February 3, 2016
With clear turquoise waters, white soft sand, and hurricane-free weather, this amazing island is not only the perfect island for your Aruba destination wedding but simply amazing for any type of sun-filled getaway. Aruba, which is considered to be one of the happiest islands in the world, is filled with beautiful people, resorts, beaches, and culture inside and out. Whether it be the locals or even the tourists, everyone on the island is welcoming with open arms and open hearts. With Spanish, English, Dutch, and their native tongue of Papiamento being used on the island, no guest of the island will ever feel lost in translation.
Setting the scene
Renewal and relaxation are guaranteed by the warm blue skies, ivory beaches and turquoise waters. Aruba is renowned for its natural phenomena and romantic photo opportunities. The Alto Vista Chapel is a unique sight and is considered to be the first church established in the Caribbean. The California Lighthouse is well known as the 'sunset spot,' atop a high seaside elevation that provides scenic views of the western coastline, rolling sand dunes, and rocky coral shorelines.
Snorkel along one of the many coasts; rent a car and explore the islands hidden treasures; climb the 400 steps of the Hooiberg, Aruba's famous 541-foot peak mountain; golf on pristine courses; or pamper yourself in top spas. Explore the rugged northern shore which is home to hidden caves, aboriginal art pieces, wild horses and the romantically dilapidated ruins of the bygone gold rush.
Reasons to recommend
Location, location, location! Located south of the hurricane belt, Aruba has not had a hurricane in over 100 years, and has a year round temperature of 82 degrees Fahrenheit. With minimal rainfall, couples can relax knowing their vacation or special day is unlikely to be ruined by inclement weather.
Wedding venues range from elegant ballrooms to white sand beaches. Aruba offers an island-wide 'One Cool Honeymoon' program, providing newlyweds with one free night for their anniversary visit. Aruba's classic island scenery and unspoiled coasts makes it ripe for honeymooners in search an intimate getaway.
How to get married in Aruba
Civil marriages must take place at the Civil Town House. Required documents include: copies of birth certificates with state certification; passport picture page or valid state issued picture I.D.; witness (18 years and up) passport picture page or valid state issued picture I.D. (minimum two witnesses) and proof of single status.
Documents should be sent to Bureau Burgerlijke Stand en Bevolkingsregister, Schoolstraat #2, Oranjestad, Aruba, Dutch Caribbean, fax (297) 583-9160. All documents must be faxed or e-mailed for review and then submitted by courier at least one month prior to the wedding date.
Our Wedding Expert's Top Resorts
This island has many luxurious resorts which are absolutely perfect for giving the ultimate wedding experience. The Riu Aruba, The Ritz-Carlton, Divi Aruba All Inclusive, the Renaissance Aruba Resort & Casino and Bucuti & Tara Beach Resort Aruba are just some of the many resorts that offer a private, elegant and memorable ceremony for anyone saying "I do."
Off-site Venues
For anyone looking to celebrate the reception of the wedding or the wedding itself off-site, Aruba has a number of elegant restaurants and venues that offer wedding groups the perfect alternative for an off-site reception. Tierra Del Sol Resort & Golf is a luxurious and lavish location for any wedding or reception. With the view of Aruba's coastline and clear waters, this chic and glamourous location offers delicious and delectable items that will please your guests and that everyone will enjoy. Looking a more intimate reception along the beach? Passions On the Beach (featured below), is definitely the best restaurant to give that romantic, intimate and beachy feel for any wedding. Their unique flavours and romantic décor that lights the entire beach, will give your wedding something special.
Visit: Passions on the Beach 
Why We Love It
Aruba is not only the best spot for weddings but honeymoons too. Aruba offers the best in shopping, casinos, restaurants and nightlife. With hundreds of local restaurants just steps away from your resort, you are nothing short from a great dining experience. If you're looking for fun in the sun, Aruba offers some of the best spots to snorkel, scuba dive, fish, and even go tubing on the ocean. The island also offers countless tours and activities for anyone looking for excitement or thrill. There are jungle jeep tours that take you across the island exploring the Gold Mine Ranch, the Natural Bridge, the Alto Visto Chapel and the famous Caves. If you have the need for speed, Aruba also offers ATV's for anyone looking for a bumpy and fun ride. Or, if you're looking to just relax and catch some rays after a hectic and crazy year of planning your wedding, Nafanny Spa and Spa Del Sol are the best spots to sit back, relax, and enjoy a couples retreat or a deep tissue massage.